Press Release
Normal launches multiplayer VR game Half + Half, created by its entirely remote team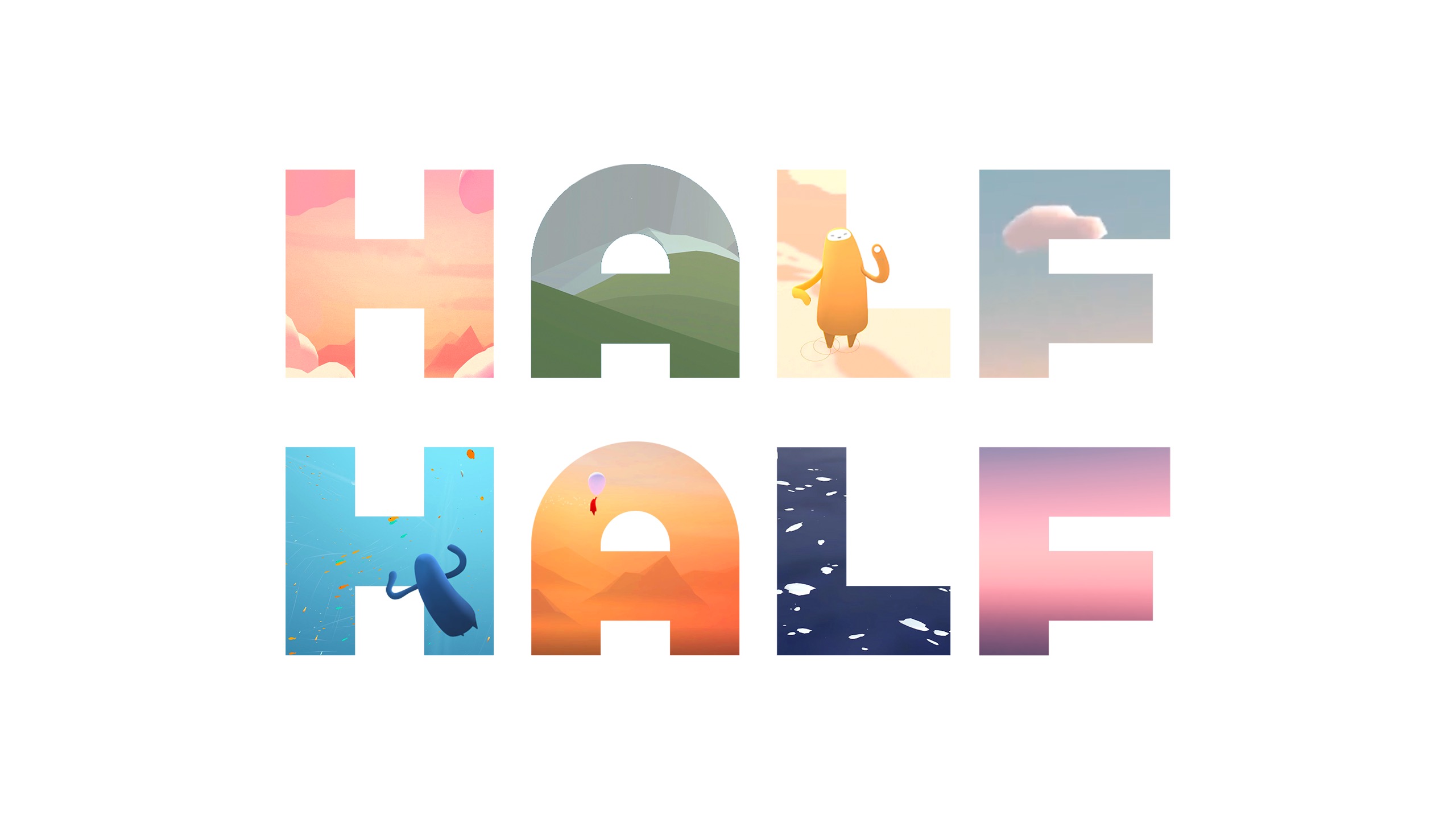 Launching September 12th on Oculus Quest and Rift, Half + Half is a multiplayer game developed by Normal. The culmination of four years of Normal's research into the VR space, Half + Half features five multiplayer experiences for players to play with friends or strangers.
Half + Half is designed with a focus on creating fun and meaningful connections between players by using real-time voice chat, expressive avatars to communicate with body language, and game mechanics designed to make you look as ridiculous as possible in real life, Half + Half is Normal's hand-crafted world built for you and your friends to hang out and have fun together.
Today many people fear VR will replace the little time we spend away from our phones and computers, and that we'll soon spend all of our time in VR. However, our goal with Half + Half is the opposite. We would like to take the time we already spend on computers and make it higher quality. We'd like Half + Half to make the time we spend talking to our friends on the internet feel like time well spent.
Half + Half is built using Normcore, a plugin for the Unity game engine that makes it easy to add multiplayer functionality to any Unity app. With the experience of creating an advanced multiplayer system, we excitedly jumped into our next project, designing a multiplayer game, and set out to integrate the magic of social VR into every feature.
<3 Normal
Follow us on Instagram and Twitter @NormalVR
For questions or other inquiries, please contact press@normalvr.com.
---
FAQ
What is Half + Half?
Half + Half (read: Half and Half) is a multiplayer VR game for Oculus Quest and Oculus Rift. There are five unique multiplayer spaces. Through the use of novel game mechanics and locomotion, each space is designed to help you connect with people you know, and also to connect with people you don't. Every space in Half + Half is designed to be fun, but also to make you look as ridiculous as possible in real life. Half + Half is made to be fun for you, but also fun for everyone in the same room.
Who is Normal?
Normal is a research studio founded by Max Weisel. The plan is, well, no plan. Most people start with an idea. They place a flag in the distance and work towards it. On the way, they learn more, usually including much cooler places they could've put that flag. It may sound obvious, but our first idea is never our best. I'm sure that's true for you, as well.
Personally, we've never been one to get tied to a first idea. At Normal, we try 1000 ideas before settling on one. If that one idea is brilliant, no one has to know about the other 999. Those are our little secret. Then everyone will think that all of our ideas are as good as the one we actually released.
Since our inception in 2016, we've released Normcore, a plugin to make adding multiplayer to any game easy. And Half + Half, a game that is the culmination of four years of research into the social VR space.
What is Normcore?
Normcore is the networking technology behind Half + Half's multiplayer features, and is also a major tool we've developed and used throughout our process on Half + Half. Normcore enables our remote team to collaborate and review our work inside of VR together.
Specifically, Normcore is a multiplayer plugin for the Unity Game Engine that enables real-time multiplayer with voice chat, motion-tracked avatars (for VR and AR), and networked physics right out of the box. Experiences made using these elements are often called "Social VR". On top of that, it's as easy to set up as dragging and dropping a prefab into your scene.
Normcore is available at https://normcore.io.
What's social VR?
Social VR is any experience that uses virtual reality to connect users into a space or experience where they can communicate and even sometimes collaborate or play along with each other. It's like a video call where you really feel like you're in the same room as someone else.
Half + Half is a game built on this concept of spending time with others in virtual reality.
Is crossplay (playing with Rift and Quest users) supported?
Yes, Normcore was built to enable platform-agnostic multiplayer experiences, so your friends will be glad to know they can join your party, whether they're running a Quest or Rift.
Is Half + Half a cross-buy experience?
Yes, if you purchase Half + Half on Rift, you'll be able to play it on your Quest (or vice versa) without needing to buy another copy.
I've tried Social VR, and I had a bad experience. I'm not so sure I want to try it again…
We're sorry to hear you had a negative experience in a social VR app.
At Normal, we know that the physical distance in the real world between VR users is not enough space to protect against negative words and actions from being shared online. While building Half + Half, we made it our priority to research and develop solutions to help ensure all users can have an enjoyable experience. After all, we want to inspire deeper connection in VR, and not encourage further isolation.
So what does that look like practically?
Voice scrambling for anyone who is not on your approved friends list

When you're placed in a match with people you don't know, we scramble their voice. You'll still hear their tone of voice, but we replace their words with "blah blah blah" :)

A thoughtfully designed avatar for all kinds of humans

Wanda, our avatar, was purpose-built to suit everyone and will automatically adjust to your own height.

Built-in moderation system to remove harmful players (coming soon)

At the end of each minigame session, you'll be presented with a dialog to rate the enjoyability of your interactions and the users you were matched with.
If you indicate that your experience was made less enjoyable by another user, that's all you need to do to report the player and be sure you never match with them again.
Our servers will keep a log of any sessions rated by users as not positive, and our team can review the session to determine any bad actors and ban them entirely from our platform.
While it's our hope you'll never have a less than wonderful experience in Half + Half or any social VR app, we want you to know your safety and privacy are super important to us, and in addition to the tools we've implemented to help eliminate negative experiences, you can always reach out to us at support@normalvr.com.
I want Wanda swag! Where can I find some?
Stay tuned to our blog for updates, but for now, you can pick up a very Normal shirt or hat at our store.
Half + Half Credits
Normal
Founded By
Lead Design
3D Engineering
Rustin Wollin
Erica Layton
John Cornacchioli
Chris Parker
Chris Lane (Audio)
2D Engineering
Half & Half Branding
Production
Evangeline Vournazos
Nick Savarese
Katherine Richter
Leah Bingham
Copywriting
Voice of Cutie Keys & Scrambled Voices
Annlie Huang & Devin Kerr
Normal Branding
The Collected Works
Justin Colt
Jose Fresneda
Legal
Perkins Coie
Daphne Higgs
Special Thanks
Mike Meyer
Brianna Chenell
Erica Sharkey
Fernando Ramallo
Gus Bendinelli
Dedicated to Susan Maggiora
June 7th 1951 - May 30th 2019
Original Music, Sound Design, & Spatialized Mix by Antfood
Wilson Brown: Executive Creative Director
Sue Lee: Executive Producer
Trevor Haimes: Senior Producer
Yuta Endo: Lead Composer & Sound Designer
Spencer Casey: Lead Composer & Sound Designer
Bennett Eiferman: Composer & Sound Designer
Published by Oculus Studios
Colum Slevin: Head of Experiences
Yelena Rachitsky: Executive Producer
Dorian Dargan: Producer
Ichha Arora: Associate Producer
Kat Bachert: Project Manager
Trevor Dasch: Developer Relations Engineer
Additional Links
Half + Half on Oculus Store (Quest)
Half + Half on Oculus Store (Rift, Rift S)